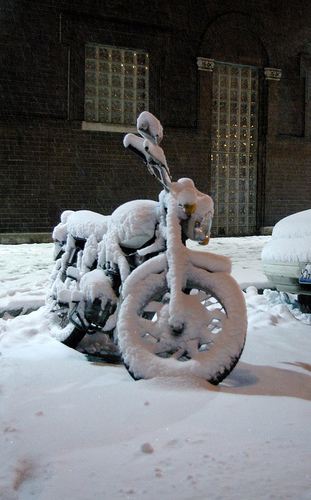 NOW IS THE TIME TO BOOK YOUR WINTER STORAGE SPOT!!!!
WE HAVE ROOM FOR ABOUT 30 BIKES ONLY.


MOST MOTORCYCLES $550.
EXTRA LARGE MOTORCYCLES $650.

Bikes will be stored until April 1th, 2024
CALL TO RESERVE YOUR SPOT OVER THE PHONE WITH A CREDIT CARD.
905-361-9090
Not all motorcycle owners have an appropriate place to store their bikes during the winter months. We offer well priced and convenient winter storage facilities & service for all of our Customers.
If you cannot ride your motorcycle to our location, please call us to schedule a pick up.

Winterization Includes:
Full bike inspection

Removing your battery and putting it on tender to charge

Stabilizing the fuel in your tank

Draining the carburetor bowls if applicable

Heated climate controlled storage environment

Each bike covered individually (We will use your own cover if you prefer)

Complete spring safety check and prep

Inflate tires to maximum pressure printed on tire by manufacturer

Spring clean up & detail
Picking Up Your Bike In Spring:
When you want your bike taken out of storage, please call our service department at least 14 days in advance so that your request can be put into the queue with all the other Customers who want their bikes. Service departments at all shops and dealerships are swamped in the spring ~ that's why we ask for the 14 day advance notice so you won't be disappointed.
Oil & Filter Change:
Since many riders know how and prefer to change the oil in ther motorcycles themselves, we do not include the price of an oil & filter change with our storage fee. We strongly recommend a fresh oil & filter change before storing your bike for the winter. Consult with our service department when dropping off your bike.
In / Out Privileges:

There are NO in/out privileges. You can request to have your bike taken out of storage at any time; however, if you want to put it back into storage, additional storage fees will apply.